JMT visits JAIF supported projects with Ministry of Home Affairs, Singapore
SINGAPORE, 22 May 2019 – JAIF has a long stated commitment to combat transnational crimes (TC) in particular counter-terrorism. With more than 50 TC-related projects across the ASEAN region, various ministries in Singapore have been implementing 10 of them. As part of its monitoring activities, JAIF Management Team (JMT) visited Ministry of Home Affairs, Singapore to collect relevant information and analyse their overall effectiveness, efficiency, sustainability, and relevance.
The team met with representatives from International Criminal Police Organization (INTERPOL) Global Complex for Innovation and agencies under Ministry of Home Affairs such as Singapore Police Force (SPF), Immigration and Checkpoints Authority (ICA), Home Team Academy (HTA), Singapore Civil Defence Force (SCDF), International Cooperation and Partnership Division (ICPD).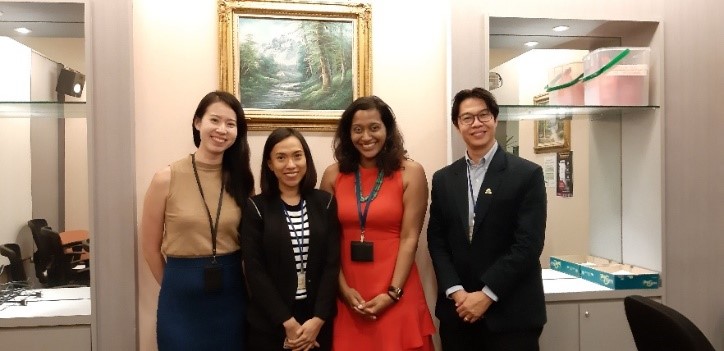 JMT Outreach and Monitoring team, Zin Aung Swe and Dea Karina Artikasih (second and fourth from left), posed for a group photo with the officers from the Ministry of Home Affairs, Singapore.
© JAIF Management Team
Other JMT News