JMT Attends the Graduation Ceremony of Attachment Officers to the ASEAN Secretariat (16th Batch of APSC and 5th Batch of AEC/ASCC)
Graduation Ceremony of twelve Attachment Officers (AOs) from Cambodia, Lao PDR, Myanmar and Viet Nam was held virtually on 24 September 2020. During the one-year programme, 12 AOs from the 16th Batch of Junior Diplomats (APSC involvement) and the 5th Batch of AEC and ASCC involvement further developed their knowledge and understanding on regional cooperation. The ceremony was attended by over 60 participants, including H.E. Ambassador Akira Chiba, Ambassador of Japan to ASEAN, H.E. Aladdin D. Rillo, Deputy Secretary-General of ASEAN for ASEAN Economic Community, Permanent Representatives to ASEAN, ASEAN Secretariat staff members who served as mentors for AOs and the members of JMT.
Congratulating the graduating AOs, Ambassador Chiba highlighted the importance of the Attachment Programme as JAIF's longest-running programme that has so far supported 100 officers from CLMV who now play a significant role in ASEAN cooperation after graduation. Words of appreciation for extensive support from the Government of Japan and JMT were shared by DSG Rillo, H.E. Ambassador Aung Myo Myint of Myanmar and various host divisions. On behalf of JMT, Director Setsuko Miyakawa wished AOs a further success in their future career and continued cooperation with JAIF.
Japan has consistently supported the Attachment Programme since 2001. The Attachment Programme continues to develop capacities of CLMV officials to participate in regional initiatives and to fulfil their regional commitments.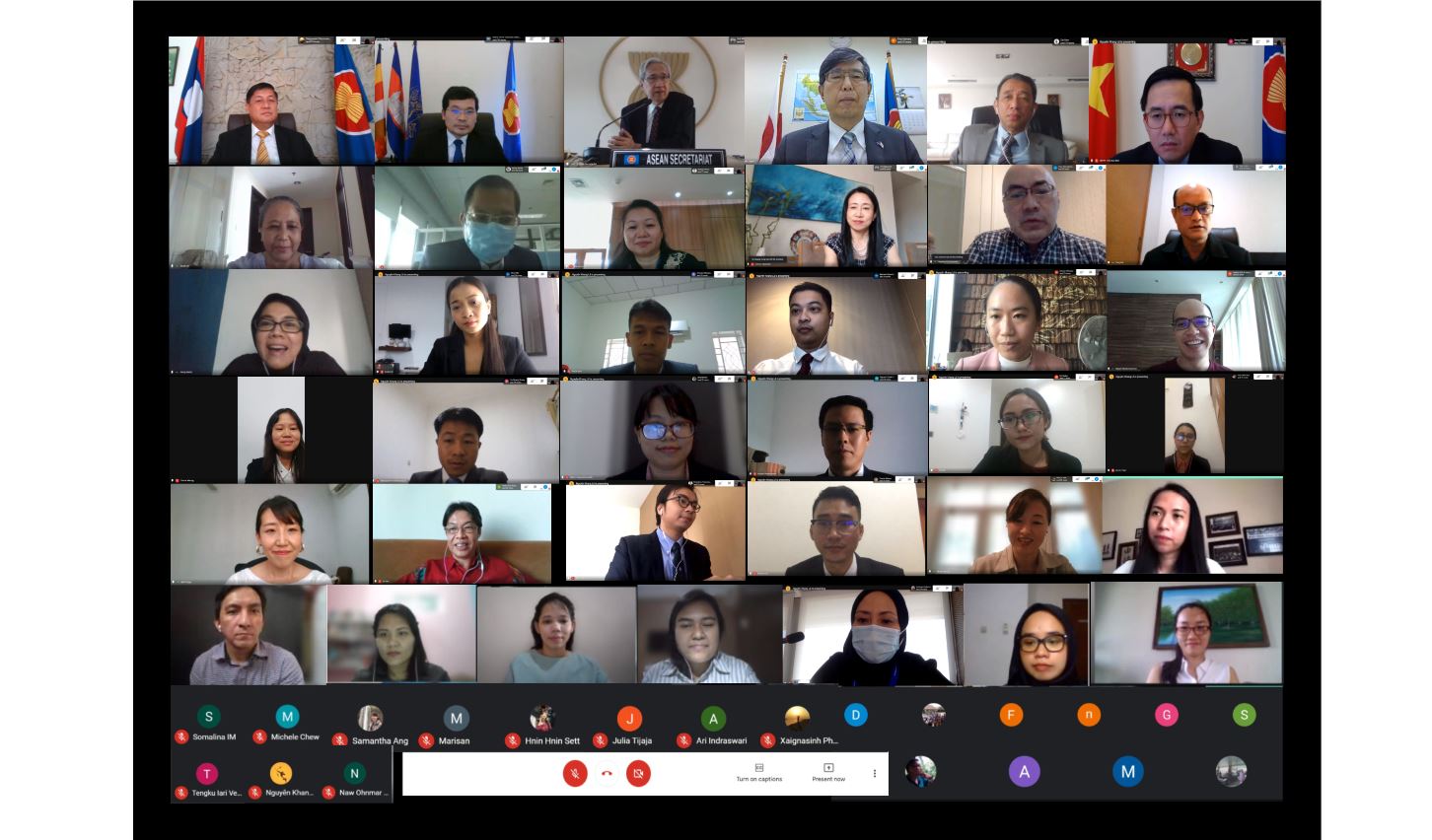 H.E. Ambassador Chiba, Permanent Representatives to ASEAN, H.E. DSG Rillo, and JMT members attended AOs virtual graduation ceremony
© JAIF Management Team
Other JMT News