Invitation for AHAckathon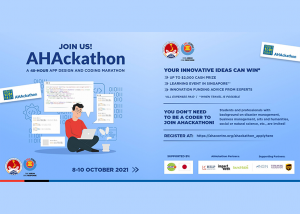 18 August 2021
-
The Humanitarian & Emergency Logistics Innovation Expo (HELIX) is back! The AHA Centre invites the tech-savvies across ASEAN to solve humanitarian logistic challenges in the region to join the AHAckathon. It is a 48-hour app design and coding marathon that will take place on 8 October 2021.
If you wish to participate whether as an individual or a team of 8 you may register through this link: https://ahacentre.org/ahackathon_applyhere
This event is part of the The Establishment of a Disaster Emergency Logistic System for ASEAN (DELSA) – Phase II: Satellite Warehouse project supported by the Government of Japan through Japan-ASEAN Integration Fund (JAIF).