ASEAN Completes its First Voluntary Peer Review Exercise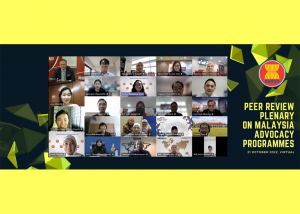 21 October 2022
-
The Plenary Meeting for the Pilot Peer Review of Malaysia's Competition Commission (MyCC's) Competition Advocacy Activities was held virtually following the successful undertaking of the inaugural ASEAN Voluntary Peer Review, which is consistent with deliverable 1.2.3 of the ASEAN Competition Action Plan (ACAP) 2025. The Chief Executive Officer of the Malaysia Competition Commission (MyCC), Mr Iskandar Ismail in his remarks reiterated that MyCC is the first Competition Authority to volunteer for the pilot peer review, contributing to ASEAN's mission of attaining a level-playing field for all firms through an effective competition policy.
The Plenary Meeting which was participated by ASEAN Members States (AMS), a set of Peer Review Team, the ASEAN Secretariat, and a team of consultants, deliberated on the findings, key recommendations and takeaway points from the exercise.
The Meeting enabled AMS to learn from each other's experiences, share best practices and perspectives on encountered common issues, and helped to deepen regional cooperation arrangements amongst AMS. The exercise has also helped to identify ways to improve the overall peer review exercise – to better select the methodology to be pursued, identify solutions to challenges presented throughout the peer reviewed process, and to obtain results that would best assist the peer reviewed country to strengthen their competition law frameworks.
The Peer Review Exercise is supported by the Government of Japan through the Japan-ASEAN Integration Fund (JAIF), under the project entitled Technical Assistance for ASEAN Competition Authorities to Strengthen Competition Law Enforcement in ASEAN region – Second Phase.