ASEAN Day for Disaster Management 2021: "Strengthening Partnership and Innovation for Disaster Management in ASEAN"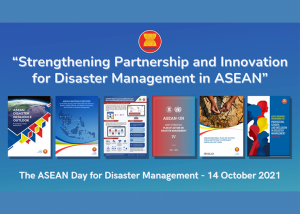 14 October 2021
-
ASEAN and its partners reaffirmed their commitment to raise the ASEAN people's public awareness on the importance of disaster risk reduction during the commemoration of ASEAN Day for Disaster Management (ADDM) 2021. The ADDM is convened annually and jointly with the International Day for Disaster Risk Reduction (IDDRR) every 13 October. This year's commemoration took place on 14 October via video conference, hosted by Singapore as the current Chair of the ASEAN Ministerial Meeting on Disaster Management (AMMDM).
In his remarks, the AMMDM Chair, Associate Professor Dr. Muhammad Faishal Ibrahim, noted that "the commemoration demonstrates ASEAN's commitment and efforts towards disaster reduction and management. This leads to an important end goal – to alleviate the hardship and suffering of peoples of ASEAN, who live in one of the most disaster-prone regions in the world." The commemoration witnessed the progress made through partnership and innovation, including the embarkation of the AADMER Work Programme 2021-2025 implementation, and the capitalisation of new technologies to chart the progress through the Web-based Monitoring and Evaluation System, which ensures that ASEAN is on-track towards meeting the goals of its five-year plan.
Further, the commemoration welcomed the finalisation of key documents that set strategic actions in disaster management, in the next five years. This includes the launch of (i) the ASEAN Regional Plan of Action on Adaptation to Drought 2021-2025; (ii) The ASEAN Framework on Protection, Gender and Inclusion 2021-2025; (iii) The ASEAN-UN Joint Strategic Plan of Action in Disaster Management (JSPADM) IV 2021-2025; (iv) the ASEAN Disaster Resilience Outlook; (v) the ASEAN Mapping Exercise; and (vi) the Web-Based Monitoring and Evaluation System for the AADMER Work Programme 2021-2025.
The Development of AADMER Work Programme 2021-2025 including its web-based monitoring-evaluation system and the ASEAN Mapping Exercise to Promote Synergy with Other Relevant ASEAN Sectoral Bodies and Entities Associated with ASEAN on Disaster Management projects are supported by the Government of Japan through Japan-ASEAN Integration Fund (JAIF).
The recorded version of the Commemoration is available on the ASEAN Secretariat's YouTube channel: https://www.youtube.com/watch?v=9SYoHUilDsM
See also related article from ASEAN's Facebook page: https://www.facebook.com/aseansecretariat/posts/239897391498869