ASEAN Holds Forum to Tackle Climate-related Hazards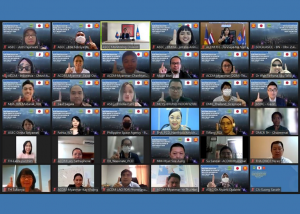 07 December 2022
-
The 4th ASEAN Socio-Cultural Community Research and Development Forum on "Building Disaster Resilience to Climate-related Hazards in Southeast Asia" was held with support from the Japan-ASEAN Integration Fund (JAIF) through the project ASEAN Socio-Cultural Community (ASCC) Research & Development Platforms. This webinar brought together experts and officials from the ASEAN Member States to discuss the trends and issues on climate-related hazards in Southeast Asia and the policy solutions that can emerge to build disaster resilience.
In his opening remarks, Deputy Secretary-General of ASEAN for Socio-Cultural Community (ASCC), Ekkaphab Phanthavong, highlighted that climate change is contributing to the rise of risks and vulnerabilities for countries and communities in ASEAN. He urged more attention to innovative adaptive approaches and cross-sector cooperation to mitigate these risks. He emphasized the need for better mobilisation of local actors and cutting-edge technologies and suggested that innovative financing could be a powerful tool.
The webinar presented the highlighted topics on the global progress that has been made in the localization of humanitarian assistance and the targeted localization approaches that can be deployed in Southeast Asia to address the systemic risks of current and future disasters of climate change including future public health emergencies. The webinar also had a discussion on the changing disaster risk landscape in ASEAN due to climate change, and the opportunities in emerging technologies for disaster risk management.
The news is also published on Vietnam Plus.