ASEAN-Japan Cooperation in the Digital Sector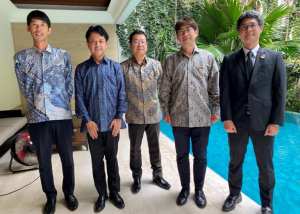 28 April 2023
-
A newsletter from the Ambassador of Japan to ASEAN, H.E. KIYA Masahiko was published on 28 April 2023. In this edition, Ambassador conveys the significance of the cooperation to the public (in both ASEAN and Japan) in an easy-to-understand manner.
Ambassador Kiya attended a series of events held in April, one of which is a meeting related to ASEAN-Japan cooperation in digital sector with NEC Asia Pacific. Through discussion with many ASEAN stakeholders, Ambassador found that the digital sector is one of the most important areas for cooperation with Japan in their expectations. Japan established ASEAN-Japan Cybersecurity Capacity Building Centre (AJCCBC)* with ASEAN in Bangkok, Thailand. More than 700 participants completed the trainings at AJCCBC. NEC is also cooperating in the operation of these trainings.
The possibilities of ASEAN-Japan cooperation are enormous. To name but a few, the use of digital technology to improve connectivity and to support start-ups within and beyond ASEAN. Ambassador said, taking the opportunity of the 50th Year of ASEAN-Japan Friendship and Cooperation this year, I would like to listen closely to the needs from ASEAN Member States, the ASEAN Secretariat, and other stakeholders. We hope to realise high-impact initiatives that will lead to the co-creation of value between ASEAN and Japan.
Read full newsletter here.
*The Government of Japan through the Japan-ASEAN Integration Fund (JAIF) supported the ASEAN-Japan Cybersecurity Capacity Building Centre (AJCCBC).