ASEAN Launches State of Climate Change Report, Kicks-off Development of Environment Report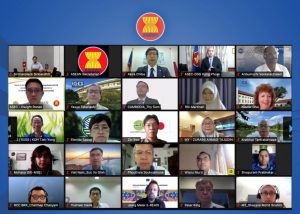 07 October 2021
-
The Association of Southeast Asian Nations (ASEAN) launched its first State of Climate Change Report (ASCCR). The report provides an overall outlook on the state of climate change in the ASEAN region and outlines opportunities for cooperation and collaboration towards 2050 climate targets. Published ahead of the global climate change conference in Glasgow this year, the report represents a milestone for ASEAN, signifying a renewed, bolder collective commitment towards global climate agenda.
"The report is designed to inform and guide the region and ASEAN Member States towards ambitious climate change targets, through a framework for transparency and transformative action to mitigate and adapt to climate change,'' said Kung Phoak, Deputy Secretary-General of ASEAN for ASEAN Socio-Cultural Community.
"As the first global stocktaking will take place in 2023 to assess the collective progress towards achieving the purpose of the Paris Agreement, it is highly meaningful that ASCCR has been launched, prior to such a critical juncture," remarked H.E. CHIBA Akira, Ambassador of Japan to ASEAN.
In conjunction with the launch of the ASEAN State of Climate Change Report, ASEAN also kicks-off the development of the 6th ASEAN State of Environment Report, after the last one was published in 2017 as part of the commemoration of the Golden Anniversary of ASEAN. The development of the ASEAN State of Climate Change Report and the 6th ASEAN State of Environment Report was initiated and coordinated by the ASEAN Secretariat, together with the Institute for Global Environmental Strategies and national think tanks from ASEAN Member States, under the purview of the ASEAN Senior Officials on Environment.
The initiatives were made possible with the support of the Japanese government through Japan-ASEAN Integration Fund (JAIF).