ASEAN Socio-Cultural Community Forum Calls for New Approach on ASEAN Disaster Management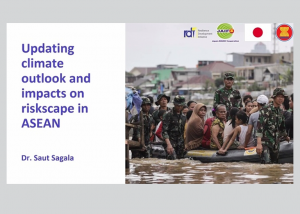 28 April 2022
-
The ASEAN Secretariat organised the Trends and Foresight for ASEAN Disaster Management forum to discuss adaptive approaches to disaster management on 21 April.
This is the second event of a series of forums under the ASEAN Socio-Cultural Community (ASCC) Research and Development Platform Programme which brings evidence-based research and insights to support ASEAN sectoral bodies in their activities. The programme is supported by the Japanese government through the Japan-ASEAN Integration Fund (JAIF).
Naoki Minamiguchi, the Director of Japan-ASEAN Integration Fund Management Team, noted that the forum aims "to assist ASEAN in achieving substantial reduction of disaster losses in lives and assets and to enhance disaster resilience in the region through collaboration and cooperation in disaster management." He emphasised the importance of actionable policy tools and innovative methodologies to be readily applied to the disaster sector.
Representatives of the ASEAN Centre for Biodiversity, ASEAN Committee on Disaster Management from several ASEAN Member States, ASEAN Committee on Science, Technology, and Innovation, Senior Officials Committee for the ASEAN Socio-Cultural Community, Committee on Permanent Representatives to ASEAN, attended the event.
The news of this event is also published on the Vietnam Plus on 4 May 2022.