Belt Buckle from the Malaysian National Museum is Featured in the ACHDA E-Exhibition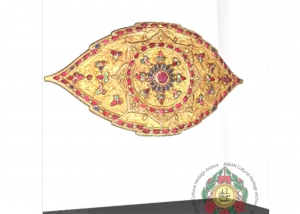 08 February 2022
-
Belt Buckle in the Malaysian National Museum is a pure gold belt buckle. This buckle is also featured in the first online exhibition (e-exhibition) within ACHDA, so now it is possible to appreciate the design of the lotus flower and the colorful jewels scattered from various angles using the 3D viewer.
The ASEAN Cultural Heritage Digital Archive (ACHDA) is a digital archive that allows you to centrally manage and browse the cultural heritage owned by each ASEAN country.
The ACHDA project is supported by the Government of Japan through the Japan-ASEAN Integration Fund (JAIF).
Other Whats New