Cambodian Officials Conclude Training on Proposal Writing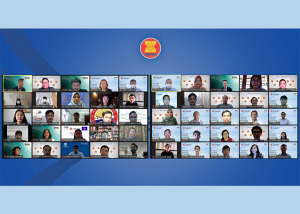 22 September 2021
-
Singapore's Ministry of Foreign Affairs, supported by the Republic Polytechnic of Singapore and the ASEAN Secretariat (ASEC), concluded its training on Project Proposal Writing for Cambodian officials. Hosted by the Cambodia-Singapore Cooperation Centre in Phnom Penh, the training took place both offline and online from 9 to 22 September, with 23 Cambodian officials from nine Ministries in attendance.
ASEC invited the Japan-ASEAN Integration Fund Management Team (JMT) to share their experience in project proposal development and monitoring and evaluation from an ASEAN partner's perspective. ASEC's Finance and Budget Division also shared project budget formulation and project fund disbursements, as well as reporting.
Following the five-day training with ASEC, participants developed four drafts of regional project proposals in the areas of gender equality in workforce; electronic commerce; TVET and labour market harmonisation; and women's economic empowerment on ICT. Upon completion, participants received a joint certificate issued by Singapore's Ministry of Foreign Affairs and ASEC.