DTI Hosts the 58th ASEAN Consultative Committee on Standards and Quality (ACCSQ) Meeting in Boracay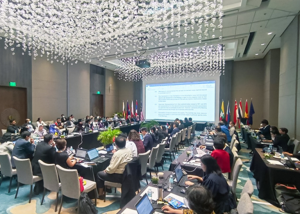 29 December 2022
-
The Department of Trade and Industry's Bureau of Philippine Standards (DTI-BPS), under the Consumer Protection Group (CPG), successfully hosted the 58th ASEAN Consultative Committee on Standards and Quality (ACCSQ) Meeting and its Related Meetings in Boracay, Malay, Aklan on 6-9 December 2022.
The Meeting discussed matters arising from the 57th ACCSQ Meeting, updates on the recent developments in the ASEAN Economic Integration, progress of 2022 Annual Priority (AP) Deliverables, latest updates in the signing of ASEAN legal instruments in 2022, AP Deliverables for 2023 proposed by Indonesia, the Standards and Conformance Strategic Plan 2016-2025 and Third Sector Masterplan of ASEAN Connectivity (MPAC) 2025, progress reports of ACCSQ Working Groups and Product Working Groups as well as Standards, Technical Regulations and Conformity Assessment Procedures (STRACAP) in ASEAN Free Trade Agreements (FTAs) with Australia and New Zealand, China, Korea, Japan, and Canada. The ASEAN Trade in Goods Agreement (ATIGA) upgrade negotiations and cooperation with Dialogue Partners were also tackled.
Several Dialogue Meetings were held back-to-back with the 58th ACCSQ, one of which is the 8th ASEAN Japan Comprehensive Economic Partnership (AJCEP) Sub-Committee on STRACAP Meeting, which discussed the progress of ASEAN activities and projects in cooperation with Japan particularly the ASEAN-Japan Partnership Program for Electromagnetic Compatibility (EMC) and Safety Conformity Assessment of Multi-Media Equipment (MME) and the Development of ASEAN Common Qualification Scheme for Quality Control Experts funded through the Japan-ASEAN Integration Fund (JAIF).