Foreign Press Centre Japan Briefing: Future Outlook for Japan-ASEAN Relations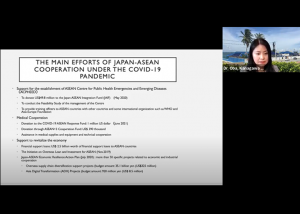 15 March 2022
-
At a G7 Foreign Ministers Meeting held in the UK in December 2021, foreign ministers from Association of South-East Asian Nations (ASEAN) Member States were invited for the first time, demonstrating hopes for the role ASEAN will play in a Free and Open Indo-Pacific.
This February, the US Biden administration announced its Indo-Pacific Strategy, which mentioned deepening cooperation with ASEAN as well as clearly stating that the US will intensify its focus in the Indo-Pacific. How should Japan, which has been a world leader in relations with ASEAN and will mark the 50th anniversary of ASEAN-Japan friendship and cooperation in 2023, develop its relationship with ASEAN for peace and prosperity in the region?
The Foreign Press Center Japan (FPCJ) invited Dr. Mie Oba, a professor at Kanagawa University and an expert on Asian international politics, to discuss this topic. She also touched upon the main efforts of Japan-ASEAN Cooperation under the COVID-19 pandemic, one of which is the support for the Establishment of ASEAN Centre for Public Health Emergencies and Emerging Diseases (ACPHEED) utilising the fund donated by the Government of Japan through the Japan-ASEAN Integration Fund (JAIF) in May 2020.