Grow Asia Welcoming JAIF as Key Supporter in the Implementation of Learning and Accreditation Program (LAP) of the ASEAN RAI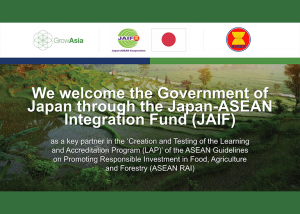 24 September 2021
-
Grow Asia is pleased to welcome the Government of Japan through the Japan-ASEAN Integration Fund (JAIF) as a key supporter in the implementation of the Learning and Accreditation Program (LAP) of the ASEAN Guidelines on Promoting Responsible Investment in Food, Agriculture and Forestry (ASEAN RAI). The goal of the LAP is to train participants on how to practically apply the ten core environmental, social and governance principles of the ASEAN RAI.
◾ Learn more about the ASEAN RAI here: www.aseanraiguidelines.org
◾ Learn more about the LAP here: https://lnkd.in/g_5vjCFZ
◾ Learn more about JAIF here: https://jaif.asean.org/
Grow Asia is the implementing agency of the Creation and Testing of Learning and Accreditation Programme to Implement ASEAN-RAI Guidelines, a program made possible with support from the Food, Agriculture and Forestry Division (FAFD) of the ASEAN Secretariat and sponsorship from Senior Officials Meeting of the ASEAN Ministers on Agriculture and Forestry (SOM-AMAF).