Highlights of JENESYS2022 Activities in February 2023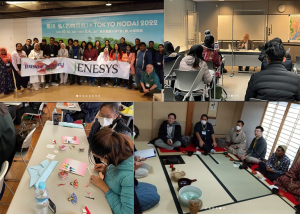 28 February 2023
-
JENESYS2022 aims to promote mutual trust and understanding among the peoples of Japan, ASEAN Member States, and Timor-Leste, to build a basis for future friendship and cooperation, as well as to encourage an understanding of various aspects of Japan. The project is supported by the Government of Japan through the Japan-ASEAN Integration Fund (JAIF).
The highlights of JENESYS2022 in February 2023 recorded from the activities of "JENESYS2022 Japan-ASEAN History of Development Cooperation". The journey of participants is captured in the Japan International Cooperation Center (JICE)'s Instagram:
On 26 January, participants had a tour and attended a lecture at JICA Global Plaza and exchange with National Graduate Institute for Policy Studies (GRIPS). They also had a virtual tour and lecture of Kao Corporation, a Japanese company that is famous for daily products such as soap. Lastly, participants attended a with the theme Youth Initiatives on Sustainable Blue Seas in ASEAN and Japan.
Starting on 27 – 29 January, participants were divided into groups with different focuses and activities:
Group B – On the first day, Group B had an exchange experience with Institute of Tropical Medicine of Nagasaki University. They visited Nagasaki National Peace Memorial Hall for the Atomic Bomb Victims and Nagasaki Peace Memorial Park on the next day. Last day on 29 January, they experienced the cultural experience of origami, Japanese event namely Hinamatsuri and Tango-no-sekku, and also enjoyed Japanese traditional sushi and sweets.
Group C – On 27 January, Group C visited Ritsumeikan Asia Pacific University to experience the exchange programme and on 29 January, they had a home visit and visited NPO Azimumachi Green Tourism Society for a lecture.
Group D – On 27 – 29 January in Hiroshima prefecture, Group D experienced the exchanges with JDS students in Hiroshima University, visited Hiroshima Peace Memorial Park, had courtesy call for Higashi-Hiroshima city and cultural experience of ikebana, origami and kimono.
Group E – On 27 – 28 January, Group E had an exchanges experience with Chiba University and the next day, they had a tour of Sazaedo, Tsuruga Castle and a samurai residence in Aizu Wakamatsu.
Not only JICE, ASEAN-Japan Centre also covered JENESYS2022 activity and posted the group photo of participants from the reporting session and closing ceremony of Group 1 and Group 3 on their Instagram.