Highlights of JENESYS2022 Activities in January 2023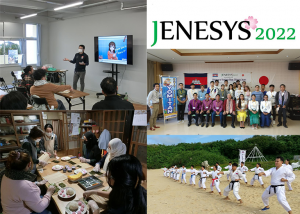 31 January 2023
-
JENESYS2022 aims to promote mutual trust and understanding among the peoples of Japan, ASEAN Member States, and Timor-Leste, to build a basis for future friendship and cooperation, as well as to encourage an understanding of various aspects of Japan. The project is supported by the Government of Japan through the Japan-ASEAN Integration Fund (JAIF). These are the highlights of JENESYS2022 activities conducted in January 2023:
Brunei creator in Japan – JENESYS programme invited 20 Brunei creators to Japan from 11 – 17 January 2023. They visited amps International ANIME School in Tokyo and learned about the history of Japanese animation. The lecturer Mr. OBATA Kimiharu is a well-known creator who is in the team of "Sailor Moon" and "Shin-chan". The participants also interacted with Japanese students studying animation and manga policy at Nihon Kougakuin College. Also, they visited real-life anime locations such as the movie "Evangelion", and the anime "Lagrange – The Flower of Rin-ne" in Chiba prefecture.
At the home visit, they learned about Japanese traditions and the warmth of the people. Participants are likely to remember what they presented at the Reporting Session and continue to share what they have learned with Brunei and the world.
JENESYS2022 Japan-Cambodia Martial Arts Exchange Program – On 11 – 17 January 2023, participants from Cambodia finally came to Japan to join the Japan-Cambodia Martial Arts Exchange Programme. Most of participants are experienced Karate, some of members are even National Karate members.
First day they visited the Nippon Budokan, where participants learned about "The History and Fascination of Japanese Martial Arts" lectured by Mr. YOSHII Hideo. Then, they visited Nippon Sports Science University to observe the practical training of martial arts by University Students. For sure, all of participants enjoyed all of program and deepened the understanding of Japanese Martial Arts.
From the second day they went to Yomitan Village in Okinawa and participated in many programmes such as a courtesy visit to Yomitan Village Office, home visit, and experience of Okinawa Karate and Kobudo (ancient Karate), and prepared for the presentation.
At the reporting session in Tokyo, participants made a presentation in front of the government officials from Royal Embassy of the Cambodia in Japan and the Ministry of Foreign Affairs of Japan. Also at this session, two Karate players performed KATA of Karate and everyone gave them a big ovation. Please take a look at the video attached here.
Filipino High School Students in Japan – JENESYS programme had a high school exchange between the Philippines and Japan. In Tokyo, Filipino participants visited Tokyo Metropolitan Teien Art Museum, Gotokuji Temple, and Japanese language classes. While in Hachinohe City, Aomori Prefecture, they interacted with Japanese high school students and visited Japanese families. The Filipino participants look beautiful in their ethnic costumes at the reporting session on the last day. It is hoped all participants would continue studying Japanese after returning.