Highlights of JENESYS2022 Activities Reported in March 2023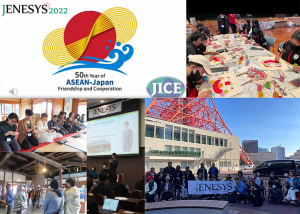 31 March 2023
-
JENESYS2022 aims to promote mutual trust and understanding among the peoples of Japan, ASEAN Member States, and Timor-Leste, to build a basis for future friendship and cooperation, as well as to encourage an understanding of various aspects of Japan. The project is supported by the Government of Japan through the Japan-ASEAN Integration Fund (JAIF). These are the highlights of JENESYS2022 reported by Japan International Cooperation Center (JICE) in March 2023:
50th Anniversary of ASEAN-Japan Friendship and Cooperation JENESYS U-17 Women's Football Memorial Cup – Football teams from ASEAN and Timor-Leste assembled in Okinawa and Tokyo, Japan on 15-25 March 2023 for the ASEAN-Japan Sports Exchange (Football).
Japan-Singapore Exchange (Japanese Communication and Culture) – On 2-14 March, 36 vocational school students from Singapore visited Tokyo and Akita. They studied Japanese and visited Hamarikyu, Kabukiza, Tokyo Daijingu, and Asakusa to deepen their understanding of Japanese culture. At Hama-rikyu, they had a matcha experience, and the participants were very impressed with the matcha and Japanese sweets for the first time! They also enjoyed visiting samurai residences in Kakunodate and enjoying a homestay in Akita Prefecture. The participants were impressed by the hospitality of the Japanese people.
Japan-Philippines FOIP Exchange – On 8-14 March 2023, 22 students and government officials from the Philippines came to Japan and inspected Tokyo and Miyagi. In Tokyo, they attended a lecture on the theme of "Open and Free Indo-Pacific (FOIP)", while in Miyagi, they attended a memorial service for the victims of the 3.11 earthquake and tsunami. The programme was meaningful and informative for the participants.
Japan-Viet Nam Young Administrative Officials and Diplomat Exchange – Diplomats and government officials from Viet Nam visited Japan and inspected Tokyo, Wakayama, and Tochigi on 1-7 March 2023. They learned about economic and trade cooperation between Japan and Viet Nam.
Japan-ASEAN Youth Leaders Exchange Program – On the occasion of the 50th Anniversary of ASEAN-Japan Friendship and Cooperation, 138 youth leaders from ASEAN countries, Timor-Leste and Japan discussed case studies on five fields of common issues in Asia (A-Tourism development, B-Internet Utilization, C-Agriculture and Food Safety, D-Labor and Human Resource Development, and E-Cities Development) under the common theme of "What can be done for peace, stability, growth and prosperity in the region?" .
From 22-28 February 2023, presentations were received every day from prestigious lecturers and speakers in each field. These presentations were the basis for participants' discussions on ways to contribute and cooperate in the Japan and ASEAN regions. From the discussions participants were able to make a declaration of action which has been submitted to the Japanese Ministry of Foreign Affairs on the day of reporting session.
JENESYS Japan-Philippines Exchange (Food Safety) – On 15-21 February 2023, twenty Filipino university students visited Tokyo and Fukushima under the theme of food safety. In Tokyo, they exchanged at culinary school that has a restaurant.
Lecture from the ASEAN-Japan Centre (AJC) – On Thursday, 23 February 2023, more than 100 youths from ten ASEAN countries, Timor-Leste, and Japan gathered for the "ASEAN-Japan Youth Leaders Exchange Program" under the "JENESYS 2022" program to discuss the common issues. AJC staff member Tanabe from Trade and Investment team gave a lecture on urban development.
Japan-Cambodia Para‐Sports Exchange – On 15 February, the participants of Japan-Cambodia Para-Sports Exchange visited Tokyo Tower.
Other Whats New