JAIF Collaborating with ACB in Taxonomic Capacity Building Initiatives for ASEAN Member States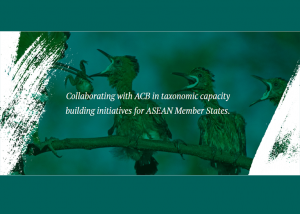 31 October 2022
-
The inadequacy in trained human resources and capacities on taxonomy has been stressed as one of the obstacles in the implementation of commitments to the Convention on Biological Diversity (CBD), especially in the ASEAN region. Lack of scientific information on biodiversity in this region is a crucial issue in the assessment and prediction of biodiversity changes, caused mainly by the lack of taxonomic capacity in data collection and analysis. To meet this challenge, the ASEAN Centre for Biodiversity (ACB) and Japan have partnered to strengthen taxonomic capacities in the ASEAN region, through projects funded by the Japan-ASEAN Integration Fund (JAIF) namely Taxonomic Capacity Building on DNA Barcoding of Common Vascular Plants in the Tropics which is currently underway.
JAIF project aims to contribute largely in developing capacities for the ASEAN Member States in the application of taxonomic knowledge for, among others, reducing the rate of biodiversity loss. The project would also enhance the role and capacity of the ACB to function as an effective regional centre of excellence in promoting biodiversity conservation and management, harmonizing quarantine and inspection sampling procedures, as well as strengthening best practices for implementing sanitary and phytosanitary measures in trading and commerce of ASEAN products to be more competitive globally as envisioned in the Roadmap (ASEAN Economic Community A.7.38.iv).
The project also aims to contribute to the establishment and enhancement of the ASEAN standards and conformance in the trading and commerce for biodiversity-related commodities and products which critically need taxonomic knowledge and skills in the region.