JENESYS 2018 In-bound Program "Japan ASEAN Student Conference:" Participants Pay Courtesy Call to Parliamentary Vice-Minister of Ministry of Foreign Affairs of Japan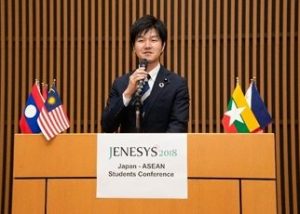 26 February 2019
-
On February 25, one hundred forty-three (143) college students from the ASEAN member states, Timor Leste, and Japan participating in JENESYS2018 "Japan ASEAN Student Conference," paid a courtesy visit to the Vice-Minister of Foreign Affairs, H.E. Norikazu Suzuki.
H.E. Suzuki expressed his pleasure that participants could deepen their understanding of Japan, through regional visits and exchange of views, under the theme of "what youths in Asia can do to realize a sustainable world." He hopes that the young participants will continue to interact and act as a bridge between Japan and ASEAN countries after returning home.
Subsequently, from the two representatives of the participating students, appreciation was expressed with the prospects for Japan and ASEAN in the future and enthusiasm for activities after returning home. "Declaration of Action" was submitted as an output of the meeting.
The JENESYS 2018 is an exchange programme for the youths of Japan and ASEAN.