JENESYS Photo Contest Awards Ceremony & Online Alumni Event for ASEAN + Timor Leste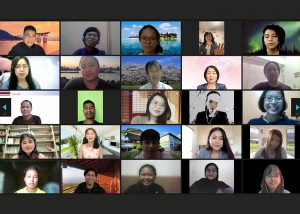 30 March 2022
-
Japan International Cooperation Center (JICE) organised an online event "JENESYS Photo Contest Awards ceremony & Online Alumni Event for ASEAN" on 19 March 2022.
JENESYS Photo Contest had been held from November to December in 2021 to confirm the outcome of JENESYS program and enhance the Alumni network. JICE collected photos showing the activities relating Japan after the program participation and participants' experiences during the program under the theme of "Reconnecting with Japan".
In the ceremony, all photos (78 photos) submitted by JENESYS alumni from JENESYS2015 to JENESYS2019 were introduced in the video clip and winners received the awards and told how they were doing recently.
About 100 participants of the event also enjoyed the brilliant musical performance of shamisen (Japanese guitar) played by "OTOHA" of Keio University. Trusted they spent wonderful time with other alumni members and enjoyed reunion through the program and reconnected to Japan.
This program is part of the Japan's Friendship Ties Programs JENESYS2021 "Inbound, Outbound and Follow Up Project" supported by the Government of Japan through Japan-ASEAN Integration Fund (JAIF).