Opening Ceremony of QC KENTEI Level 4 in Viet Nam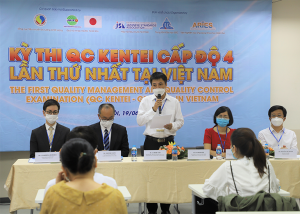 20 June 2022
-
On 19 June 2022, the Professional Training Center for Standards, Metrology and Quality – General Department of Quality Assurance in collaboration with the Japan Standards Association (JSA) held the QC KENTEI examination in Hanoi.
Speaking at the opening ceremony, Mr. Le Minh Tam – Deputy Director in charge of the Professional Training Center for Standards, Metrology and Quality (QTC) said, QTC cooperated with the Department of International Cooperation have been worked with the JSA for the past three years to receive all learning materials, processes, and organisational guidelines for the QC KENTEI Level 4 exam. QC KENTEI is an exam that evaluates and certifies the level of knowledge and competence in quality management, quality control of personnel working in quality management or interested in learning about quality management.
"QC KENTEI Level 4 Pilot Examination is expected to bring to the Vietnamese business community a methodical examination and certification system, which is recognized in Japan for the competence of quality control and management personnel," Mr. Tam emphasized.
Also, at the opening of the contest, Mr. Ha Minh Hiep – Deputy Director General in charge of the General Department said that quality management plays an important role, having a profound and multifaceted impact on various fields, from products to industries, production and business, scientific research, technological development to environmental protection, safety and human health, social justice and national interests. In the current economic integration conditions, constantly improving the quality of products and goods is the key to improving the competitiveness of enterprises and countries.
According to Mr. Ha Minh Hiep, the efforts of the Government of Viet Nam cannot be achieved without the very effective support of international cooperation projects. The ASEAN Cooperation project Development of ASEAN Common Qualification Scheme for Quality Control Experts has been supported by the Japan-ASEAN Integration Fund (JAIF) since 2019. The project aims to support improving the quality control capacity of employees in companies, schools, and other organizations, contributing to improving the quality of products and services in ASEAN countries. The project wishes to design a common competency recognition system to assess the quality control expertise of all employees of companies in the ASEAN region.