Search for Business Partner Candidates, STP IPB Holds Business Matching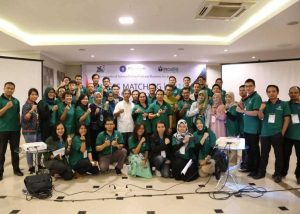 20 September 2019
-
Science and Business Incubator Technopark of Bogor Agricultural Institute (STP IPB) conducts business matching to bring together tenants (incubating entrepreneurs) with potential business partners. The activity that was held in Bogor, West Java, on Thursday (19/9) was opened by Erika B Laconi as the Vice Chancellor for Innovation, Business and Entrepreneurship of IPB.
Deva Primadia Almada as the Chair of Managing Business Matching explained that this business matching activity will be held annually. In early 2020, it will work with ASEAN and Japan-ASEAN Integration Fund (JAIF) to hold an International Business Matching in Jakarta.
Previously, STP IPB also provided capacity building training for tenants to improve their knowledge and skills to develop business. The training which was held in Bogor on Wednesday (18/9) presented Herry Nugraha as Co-Founder & Board Member of Perwiratama Group and Netti Tinaprilla from the Department of Agribusiness of IPB. The activity is in collaboration with the Ministry of Research, Technology and Higher Education (Kemristekdikti).
Through the training participants obtain understanding of the concepts and ways to properly calculate business valuations, conduct market survey and consumer research. In addition, they were also trained how to manage finances in an orderly manner, develop new products and scale up their business.
Promoting SME Competitiveness through ASEAN Business Incubator Network – ABINet is supported by the government of Japan through JAIF.