The 22nd ASEAN Plus Three Foreign Ministers' Meeting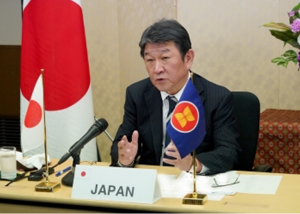 03 August 2021
-
On August 3, commencing at 5:15 PM for 1 hour and 50 minutes, the 22nd ASEAN Plus Three Foreign Ministers' Meeting was held in an online format. Dato Seri Setia Haji Erywan bin Pehin Datu Pekerma Jaya Haji Mohd Yusof, Minister of Foreign Affairs II, Brunei Darussalam, chaired the meeting. From the Japanese side, Mr. MOTEGI Toshimitsu, Minister for Foreign Affairs of Japan attended the meeting.
At the outset, Minister Motegi expressed his congratulations for the achievements of the athletes representing the ASEAN countries, as well as China and the Republic of Korea (ROK), and wished for their continued success. Minister Motegi then made the statements regarding progress in Japan's cooperation concerning COVID-19. With regard to the ASEAN Centre for Public Health Emergencies and Emerging Diseases, in order to develop the Centre into a hub for the region's fight against public health emergencies and emerging infectious diseases, Japan will continue to provide full support through, among others, the construction of the Centre and provision of equipment through the approximate 50 million US dollars Japan has already contributed via the Japan-ASEAN Integration Fund, as well as technical cooperation such as training and the dispatch of experts.
In response, the ASEAN side expressed its gratitude for Japan's support for the establishment of the ASEAN Centre for Public Health Emergencies and Emerging Diseases, and made statements emphasizing the importance of regional cooperation in relation to COVID-19 countermeasures and post-COVID-19 recovery.
The Chairman's Statement is available in here: https://www.mofa.go.jp/files/100220786.pdf