The ASEAN Magazine's Special Issue on Sports has been released!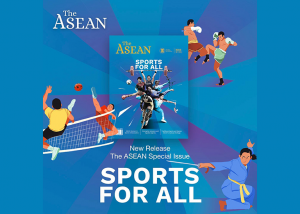 31 January 2023
-
This special issue is inspired by ASEAN's outstanding athletes, who continue to persevere, beat the odds, and reach for excellence amid the COVID-19 pandemic. ASEAN Ministerial Meeting on Sports (AMMS) Chair and Thailand Minister of Youth and Sports Phiphat Ratchakitprakarn talks about ASEAN's initiatives to adapt to future emergencies and to promote equality, accessibility and inclusion in sports. Cambodia's Minister of Education, Youth, and Sports Hang Chuon Naron expounds on why the region's traditional sports and games help build the ASEAN community.
Inclusion and gender equality are significant cornerstones of sports in ASEAN. Through the project ASEAN-JAPAN Actions on Sports under the Japan-funded initiative #WeScore, ASEAN appointed 10 prominent athletes and sports officials as ASEAN Women in Sports Ambassadors in December 2021. This edition featured them on how they use their influence to promote gender equality and women empowerment.
The ASEAN magazine also thanked the Government of Japan, through its JENESYS programme, for supporting the production of this special edition.