The Silver Container from Malaysia, One of the Featured Heritage Collections of the ACHDA E-Exhibition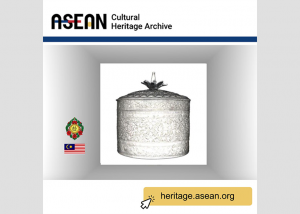 09 April 2022
-
The production of metal objects requires sophisticated skills, technology, and extended time. High-quality items made of metal, such as crowns, accoutrements, and bells, are historically valued as prestige objects.
This silver container from Malaysia is one of the featured heritage collections of the "Forging History: Metals in the Crucible of ASEAN's Transformation" e-exhibition. It is used to store jewellery and other valuable items.
Find out more about valuable historic items made of metal by clicking below link to visit the e-exhibition on the ASEAN Cultural Heritage Digital Archive (ACHDA) website:
https://heritage.asean.org/e-exhibi…/detail/FORGINGHISTORY
The ACHDA project is supported by the Government of Japan through the Japan-ASEAN Integration Fund (JAIF).