The Symposium on Global Navigation Satellite System (GNSS) Implementation for ASEAN Supported by Japan Held in Manila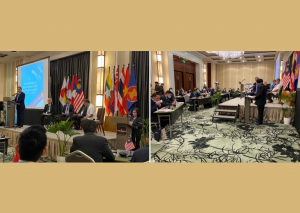 09 September 2022
-
On 8 September 2022, the symposium on Global Navigation Satellite System (GNSS) implementation for Southeast Asian countries opened at the Makati Diamond Residences in Manila, with the support of the Japan-ASEAN Integration Fund (JAIF). The GNSS Implementation Plan Training in ASEAN (GIPTA) project hosted the symposium.
Aimed at improving capacity building for Filipino engineers and government officials, the program introduced GNSS technology to Philippine aviation agencies. The GNSS Technology utilizes the Space Satellite System standardized by the International Civil Aviation Organization (ICAO). This technology seeks to improve the rate of flight service and expand the safety and efficiency of civil aviation.
Ambassador Koshikawa Kazuhiko recognized this initiative as a milestone for Japan-Philippines air and space cooperation. He also praised the progress of the GIPTA project as a symbolic collaboration under the "ASEAN Outlook on the Indo-Pacific (AOIP)", which serves as the guide for ASEAN's engagement in the Asia-Pacific and the Indian Ocean regions.
The Japan-ASEAN Integration Fund (JAIF), officially established in early 2006, is a specific funding mechanism developed by the Government of Japan to support the continuous development of the ASEAN Community. As one of the top investors and the top Official Development Assistance (ODA) donor, the Government of Japan will continue its support for the Philippines in a variety of fields, including the space satellite field utilizing state-of-the-art Japanese technology.
Read full article from the Embassy of Japan in the Philippines here: https://www.ph.emb-japan.go.jp/itpr_en/11_000001_00961.html?fbclid=IwAR1IelmvEXUyw5NiuFEkhLXAZLoONAwO1T_SE2ra0pI0U7PN9UqsGwZYYQY