Tracking Our Progress Towards the Realisation of the ASCC Blueprint 2025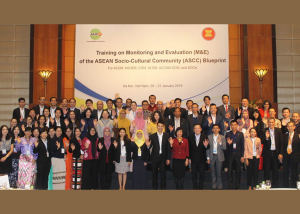 31 January 2022
-
The ASEAN Socio Cultural Community (ASCC) Blueprint 2016-2025 is a statement of commitment and a guideline for ASEAN in building a community that engages and benefits ASEAN's peoples; one that is inclusive, sustainable, resilient, and dynamic.
2020 was a pivotal year and the halfway mark of the Blueprint. ASCC Monitoring Division (AMD), through the support of the Japan-ASEAN Integration Fund (JAIF), conducted the Mid-Term Review (MTR) of the implementation of ASCC Blueprint 2025 and a series of capacity building activities on the development of monitoring and evaluation system of the ASCC Sectoral Bodies work programmes in the ASEAN Member States. Both projects generated lessons learned for ASCC to keep the Blueprint relevant for Member States and the people of ASEAN. Over 320 participants from 15 ASCC Sectoral Bodies and the Senior Official committee of the ASCC (SOCA) across the ASEAN Member States participated in these training events. Post-evaluation surveys and tests revealed that the online training had successfully increased the knowledge score of participants from 44.3 per cent (pre-test) to 68 per cent (post-test).
Read the full article in p.52 – 53 of The ASEAN Double Issue December 2021 – January 2022.