ARMAC discusses integrated approach to mine risk education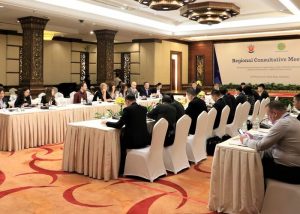 6 February 2020
-
The ASEAN Regional Mine Action Center (ARMAC) convened a major consultative meeting on the issue of "Good Practices and Integrated Approaches to Mine/Explosive Remnants of War (ERW) Risk Education for Affected Communities in ASEAN Member States (AMS)." This Meeting was the culmination of one-year research and consultation project by ARMAC, supported by the Government of Japan through the Japan ASEAN Integration Fund (JAIF).
During the opening, the Chair of ARMAC's Steering Committee and Ambassador of Viet Nam to Cambodia Vu Quang Minh expressed gratitude to the Government of Japan for their continued support of the project and to representatives of AMS for their expertise and time.
Ambassador Minh urged participants to continue their good efforts in working to enhance the ASEAN capacity to effectively address the problems of landmines and ERW" and looked forward to a future of peace and prosperity.
Representing Japan and the Japan-ASEAN Integration Fund, Mitori Naoki, Councilor, Consular Office of Japan in Siem Reap, noted Japan's strong commitment to ASEAN mine action and highlighted that Japan has consistently partnered with the AMS in the mine/ERW sector through financial contributions, provision of equipment and the dispatching of experts.