ASEAN Business Advisory Council (ASEAN-BAC) Chairperson Handover Ceremony (Attendance by Ambassador Kiya)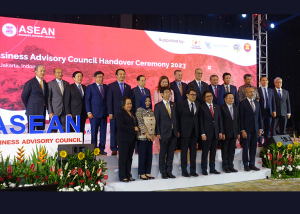 07 February 2023
-
On 30 January, the ASEAN Business Advisory Council (ASEAN-BAC) Chairperson Handover Ceremony was held in Jakarta, Indonesia, and the Ambassador of Japan to ASEAN, KIYA Masahiko attended the ceremony.
Ambassador Kiya delivered his closing remarks at the ASEAN Mentorship for Entrepreneur Network (AMEN) Regional Kick-Off event held during the handover ceremony, which marked the start of the 10-country roll-out of the AMEN project.
The AMEN Project is implemented by the ASEAN Business Advisory Council with the support of the Government of Japan through the Japan-ASEAN Integration Fund (JAIF).
In his remarks, Ambassador Kiya stated that AMEN was an excellent Public-Private Partnership to improve MSMEs' access to market, money and mentorship in the region, which would contribute to narrowing gaps.
He also emphasised that Japan would fully support priorities of Indonesia as the ASEAN Chair in 2023 including the ASEAN Outlook on the Indo-Pacific (AOIP) mainstreaming.
Read full Ambassador Kiya's remarks here.
The event also posted on AMEN's Facebook page along with a video remarks from ASEAN-BAC Chairman.
その他の新着情報