ASEAN Launches First E-Exhibition on Cultural Heritage Digital Archive Portal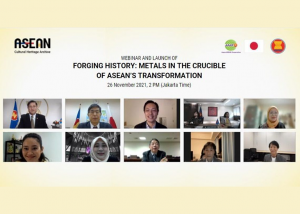 27 November 2021
-
 The inaugural e-exhibition of the ASEAN Cultural Heritage Digital Archive (ACHDA) website was unveiled today at the Webinar and Launch of "Forging History: Metals in the Crucible of ASEAN's Transformation." It features 22 digitised cultural heritage treasures selected by guest curator Girard Phillip E. Bonotan with support from museums and archival institutions of the ASEAN Member States. During the panel discussion titled "Reimagining Exhibitions during COVID-19", experts from cultural institutions in Indonesia, Malaysia, Thailand, and Japan discussed their experiences in reinventing the museum experience in light of the ongoing pandemic.
"While the COVID-19 Pandemic has deeply affected ASEAN's cultural institutions, it provides impetus for museums to re-imagine their outreach to audiences through immersive digital cultural offerings," said Deputy-Secretary General for ASEAN Socio-Cultural Community Ekkaphab Phantavong at the opening of the webinar. The ACHDA project is supported by the government of Japan through the Japan-ASEAN Integration Fund (JAIF). Ambassador Akira Chiba of the Mission of Japan to ASEAN, stated, "It is my honor and pleasure to see that advanced Japanese digitisation technology by NTT DATA came into use, and that JAIF, the Japan-ASEAN Integration Fund plays an indispensable role in launching this project."
See also the news article covering this launching event from NTT Data.
The Launching Event is also broadcasted on numerous media including Tempo, Thailand Business News, Vietnam Plus, and Worldakkam.