ASEAN Plus Three Leaders' Statement on Strengthening ASEAN Plus Three Cooperation for Economic and Financial Resilience in the Face of Emerging Challenges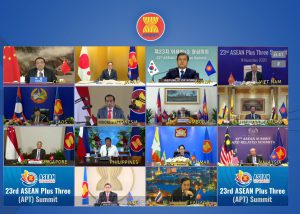 14 November 2020
-
The 23rd ASEAN Plus Three Summit were held via videoconference on 14 November 2020. The Summit was chaired by H.E. Nguyen Xuan Phuc, Prime Minister of Viet Nam, in his capacity as the Chair of ASEAN and participated by Heads of State/Government of ASEAN, the People's Republic of China, Japan, and the Republic of Korea. The Summit recognized that the COVID-19 Pandemic has significantly affected the well-being, livelihood, and safety of the peoples and exerted severe pressure on the world and regional economy, bringing about serious challenges to societies and economies around the world.
It further reaffirmed strong commitment to uphold an open, inclusive, transparent and rules based multilateral trading system, as embodied in the World Trade Organization (WTO), including supporting the necessary reform of the WTO, and underscore the importance of multilateralism and further promote greater intra-regional trade and investment, including by fully utilizing the ASEAN-Japan Comprehensive Economic Partnership among other intra-regional agreement.
The ASEAN-Japan Comprehensive Economic Partnership (AJCEP) is supported by Government of Japan through Japan-ASEAN Integration Fund (JAIF).