Press Release – The AHA Centre Signed Agreements with DDPM Thailand and Temasek Foundation to Support Disaster Management in the ASEAN Region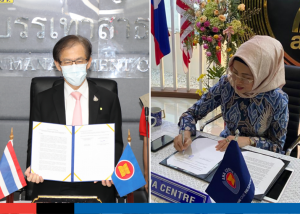 09 June 2021
-
The ASEAN Coordinating Centre for Humanitarian Assistance on disaster management (AHA Centre) signed two agreements that will strengthen disaster management in the region. The signing ceremony was held during the AADMER Partnership Conference (APC) that was held virtually on 8 June 2021.
As the primary regional coordinating agency in disaster management in the region, the AHA Centre in cooperation with the Department of Disaster Prevention and Mitigation of the Ministry of Interior of the Kingdom of Thailand (DDPM Thailand) will work together to ensure the speed efficiency and scale of an ASEAN response in the Indo China region. The Memorandum of Understanding (MoU) between the AHA Centre and the DDPM Thailand is for the establishment of a satellite warehouse in Chainat, Thailand to house the ASEAN stockpile for immediate deployment in neighbouring countries of Cambodia, Lao PDR, Myanmar, and Viet Nam.
Executive Director of the AHA Centre, Ms. Adelina Kamal expressed her gratitude on behalf of the AHA Centre and ASEAN Member States for the MoU with the DDPM Thailand and MoI with Temasek Foundation as well as the Government of Japan through Japan-ASEAN Integration Fund (JAIF), for the generous support and contribution in the establishment of the satellite warehouse. The DELSA Satellite Warehouse in Chainat, along with its sister in the Philippines and the regional stockpile in Subang, Malaysia, has been an integral part of ASEAN's collective response. "Moving forward, I hope that the DELSA Satellite Warehouse in Chainat can also serve as platform for other partners and the wider ASEAN Community, including the ASEAN people, to contribute to One ASEAN One Response", Ms. Kamal said.