The Survey and Workshop on Management Planning of Pantai Cemara, Jambi and Far Eastern Curlew Conservation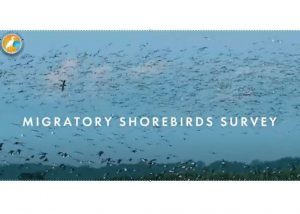 13 January 2020
-
Pantai Cemara, located in Jambi Province, Indonesia, is known as one of the most important wetland for migratory waterbirds, including the globally endangered Nordmann's Greenshank Tringa guttifer, Great Knot Calidris tenuirostris, Far Eastern Curlew Numenius madagascariensis, Vulnerable Chinese Egret Egretta eulophotes and the Near threatened Asian Dowitcher Limnodromus semipalmatus. The Far Eastern Curlew, together with many other shorebirds are declining in numbers along the flyway. Hence, the conservation management of Pantai Cemara is important for the migratory shorebirds.
In 2019, Jambi Governor declared Pantai Cemara as an Essential Ecosystem Area (KEE initiative) to support wildlife habitats, especially for the conservation of migratory waterbirds. Indonesia Wildlife Ecology Foundation (EKSAI) is a newly formed NGO dedicated to shorebird conservation. They carried out a waterbird survey at Pantai Cemara from 19-30 November 2019, led by Iwan Febrianto. More than 15,000 birds were recorded during the survey, including 36 individual Far Eastern Curlew, 28 Nordmann's Greenshanks and 5000 Great Knot.
The survey is made possible through The Improving Biodiversity Conservation of Wetlands and Migratory Waterbirds in the ASEAN Region – Phase I project supported by the Government of Japan through Japan-ASEAN Integration Fund (JAIF).