Mainstreaming the Rights of Persons with Disabilities with Gender Perspectives in ASEAN
18 January 2022
By JAIF Management Team
Various efforts have been made in recent years to promote the rights and equal opportunities of persons with disabilities and improve policies and regulations in all spheres of a people-centered and people-oriented ASEAN Community. One of them is the ASEAN Intergovernmental Commission on Human Rights (AICHR) Regional Dialogues on the Mainstreaming of the Rights of Persons with Disabilities in the ASEAN Community, which have been implemented with the support from the Government of Japan through the Japan-ASEAN Integration Fund (JAIF) and other dialogue partners. The AICHR Regional Dialogues have been conducted since 2015 with the most recent Dialogue held in December 2021. Discussions at the Regional Dialogues contributed to the development and implementation of the ASEAN Enabling Masterplan 2025: Mainstreaming the Rights of Persons with Disabilities adopted at the 33rd ASEAN Summit in 2018.
Dr. Arunee Limmanee from Thailand and Ms. Metta Thippawong from Lao PDR are the participants in the 2019 AICHR Regional Dialogue on the Mainstreaming of the Rights of Persons with Disabilities in the ASEAN Community (Gender Perspectives on Disability Rights) who shared their experiences from the Dialogue, the current status of human rights of persons with disabilities in their respective countries, and their hopes for the future.
Arunee Limmanee, Deputy Dean of the Faculty of Social Administration at Thammasat University, also serves as Advisor to the Association of the Physically Handicapped of Thailand (APHT) and the Chair of the Department of Children, Youth and Women with Disabilities at Disabilities Thailand (DTH). Being physically disabled herself, she has been volunteering as an advocate for access to transportation for people with disabilities since her student days. After obtaining her master's degree in social work in the United States, she became a staff member of the APHT, promoting human rights of persons with disabilities on a daily basis by helping the mobility impaired, physically disabled, especially social minorities, and people with special needs.
At the 2019 AICHR Regional Dialogue, where gender perspectives in the rights of persons with disabilities were the main theme, over 120 people from different sectors participated, including policy makers, government officials, law enforcement agencies, private companies, academics, and other partners. Over the course of three days, the participants discussed the topics of women with disabilities and political rights, gender perspectives and justice system, disaster preparedness and management for women and girls with disabilities, inclusive education for women and girls with disabilities, and mainstreaming gender and disability rights in business.
Looking back on the Dialogue, Arunee says that the opportunity to meet with the stakeholders from diverse sectors in ASEAN countries to share their experiences once a year is invaluable in getting new ideas.
"When hearing about disabilities, many people turn their attention to ministries and agencies related to social welfare, but the issue of people with disabilities is not limited to social welfare and medical care but affects all sectors, such as business, politics, education, and labour." She points out that this fact is often overlooked in the eyes of people without disabilities. The Dialogue brought together experts from a wide range of fields and featured interesting discussions from different perspectives that are not often in the spotlight, such as disaster preparedness and management.
The Thai Government has adopted and implemented a number of laws, regulations, and policies for persons with disabilities, including the ratification of the Convention on the Rights of Persons with Disabilities (CRPD) in 2006. However, there are gaps in the implementation of these laws and policies, Arunee explains.
For example, there is a government service where people can seek rehabilitation and treatments free of charge. However, people with disabilities living in rural areas have to sacrifice their daily incomes to travel to service centres in the city where they can receive treatments. APHT provides wheelchairs to children with mobility impairments. However, the support does not help as initially expected. Schools are not accessible by wheelchair because they are located too far from their homes and the roads are not paved. She points out that there are tremendous gaps in available services and information, especially between urban and rural areas.
The biggest problem, according to Arunee, is that women with disabilities are hardly involved in policy and decision-making processes in Thailand and there are no women with disabilities in the parliament. Because of their disabilities and they are female, they face double discriminations. There are more obstacles for women and girls with disabilities living in rural areas. "The quickest way to help these people is for a member of parliament representing women with disabilities to speak directly to policy makers," she claims. "It is high time that we defend our own rights instead of relying on others."
Arunee stood for an election to the Upper House, passed the local and national elections, but was defeated in the final selection by the Election Commission. Her challenge continues to deliver the voices of women with disabilities to the parliament.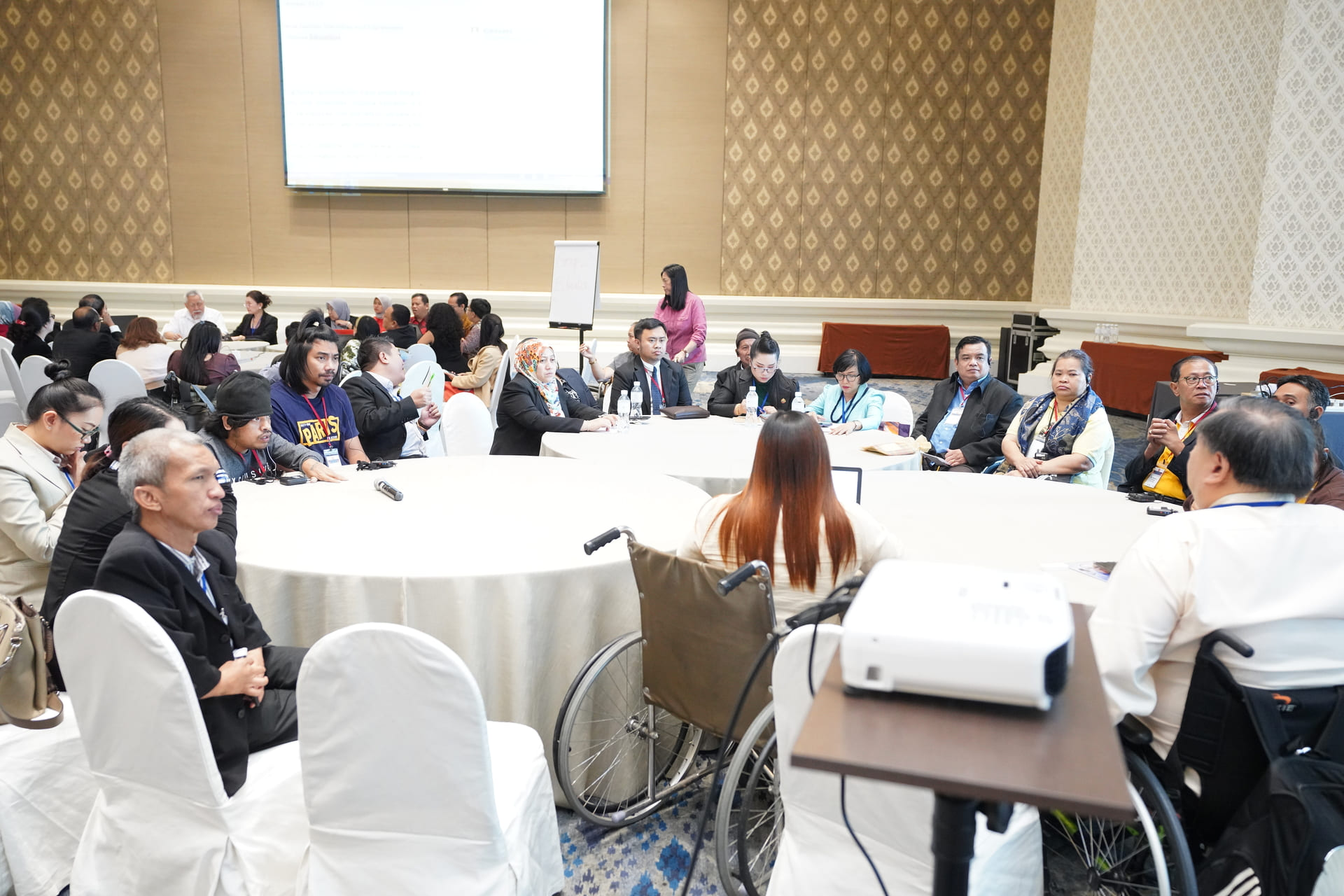 © AICHR Thailand
Metta Thippawong, who attended the Dialogue from Lao PDR, takes a lead in the Cooperative Orthotic and Prosthetic Enterprise (COPE) as a Program Manager. She also has a physical disability and is passionate about helping other people with disabilities to live better lives. COPE works with the Ministry of Health's Centre of Medical Rehabilitation to help people with physical disabilities who require prosthetic, orthotic, and other assistive devices to access available rehabilitation services to regain mobility and dignity for a better quality of life  by having improved engagement with families and the community.
In Lao PDR, most women and girls customarily engage in domestic activities in both urban and rural settings, and the status of women and girls with disabilities, in particular, is low in the community. They have difficulty in accessing education and rehabilitation services. They also cannot go out of home unless accompanied by a family member because of a prejudice remaining in communities. "As a result, women and girls with disabilities are unable to participate in education and livelihood activities, and their household income is reduced, leading to a vicious circle in which their lives become even more difficult," Metta explains.
The Dialogue provided the participants with an opportunity to visit the Asia-Pacific Center on Disability (APCD)1 in Bangkok, which is implementing various capacity-building activities supported by JAIF. The participants observed the leadership training offered to organisations of persons with disabilities (OPD) at the centre and learned a lot about disability-inclusion activities from the professionals with disabilities working there.
Following the Dialogue, a local organisation called the Disability Mainstreaming Advisory Service (DMAS) Center2 was established to lead the Lao OPD to implement the ASEAN Enabling Masterplan 2025. Metta was delighted to witness a tangible step forward in her country. In establishing the DMAS Center, learnings acquired from APCD were utilised on providing training and educating people about mainstreaming the rights of persons with disabilities in all spheres of the community and policies. The work of the DMAS Center has given the Lao OPD a deeper understanding of the 76 key action points in the Masterplan that supports access to education, politics, and economy for people with disabilities.
Going forward, she believes such a dialogue should be continued among ASEAN countries so that Lao PDR can learn from the countries that are one step ahead in mainstreaming the rights of persons with disabilities and regularly monitor the implementation of the Masterplan.
Metta shares, "human rights-based approach highlighted in the Dialogue will help to reduce the barriers faced by women and girls with disabilities in Laos, which in turn will lead to a stronger and resilient ASEAN community."
© AICHR Thailand
JAIF's support for human rights is translated in the projects implemented by AICHR, including a series of five AICHR Regional Dialogues on Mainstreaming Human Rights for Persons with Disabilities from 2015 to 2019. The ASEAN Enabling Masterplan 2025, adopted as a pinnacle of these Dialogues, complements the ASEAN Community Vision 2025 and has become an essential tool for mainstreaming the rights of persons with disabilities across all three pillars of the ASEAN Community: Political, Economic, and Social. It also promotes the commitment of ASEAN Member States to an inclusive ASEAN Community.
1 The Asia-Pacific Development Center on Disability (APCD) is a regional center for development and the people with disabilities. APCD was established in Bangkok, Thailand as a legacy of the Asian and Pacific Decade of Disabled Persons, 1993-2002, with joint collaboration of the Ministry of Social Development and Human Security, the Royal Thai Government and the Japan International Cooperation Agency (JICA), Government of Japan.
2 Disability Mainstreaming Advisory Services (DMAS) Center was established in August 2019 with the support of the United States, it aims at supporting people with disabilities to access quality services and achieve maximum functional ability enabling them to live independently, with dignity, and to fully participate in their community, in Vientiane and other provinces of Laos. DMAS is an organisation equipped and managed to provide advisory services and technical expertise on disability inclusion to public and private entities.