JMT Participates in the 2nd Project Steering Committee Meeting of Myanmar Government Local Capacity Projects
NAY PYI TAW, 6 November 2020 – The 2nd Project Steering Committee (PSC) Meeting of Enhancing the Readiness of Myanmar Government Local Capacity in Providing Humanitarian Assistance to Support the Repatriation Process was held on 6 November 2020 at the Department of Disaster Management (DDM) Office, Nay Pyi Taw, Myanmar. The Meeting was chaired by DDM Myanmar and also attended virtually by representatives from the AHA Centre, ASEAN Secretariat (ASEC), and JAIF Management Team (JMT).
The meeting was updated the progress of project implementation and financial status. The platform explored possible options to conduct training activities and extend project timeframe through a request for no-cost extension. The JMT provided technical advice on no-cost extension request during the discussion.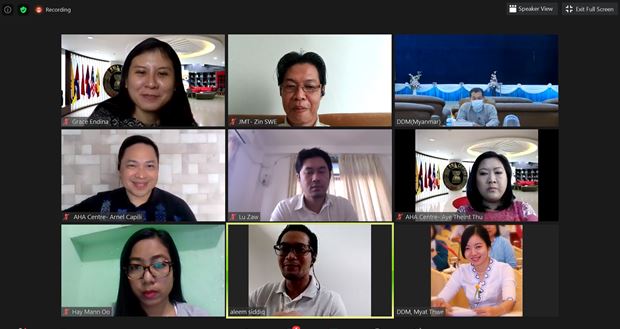 JMT Programme Coordinator Zin Aung Swe (middle box on top row) participated in the PSC meeting
© JAIF Management Team