JMT Participates in the 6th Project Steering Committee Meeting for the AHA Centre ICT – Phase IV
JAKARTA, 21 December 2021 – The 6th Project Steering Committee (PSC) Meeting for the Establishment of an Integrated Information and Communication Technology System to Strengthen the Operation of the ASEAN Coordinating Centre for Humanitarian Assistance on Disaster Management (AHA Centre) – Phase IV was held online on 21 December 2021. The meeting was attended by the Singapore Civil Defence Force (SCDF), Ministry of Internal Affairs and Communications (MIC) of Japan, Mission of Japan to ASEAN, Disaster Management and Humanitarian Assistance (DMHA) Division of ASEAN Secretariat, the AHA Centre, and JAIF Management Team (JMT).
The meeting updated the progress of the project and informed the participants that most of the project activities had already been implemented. The project will end on 31 December 2021, and the preparation of a project completion report is currently underway. The meeting welcomed a Mission of Japan's visit to the AHA Centre to observe the completion of LCD replacement. The project is supported by the Government of Japan through the Japan-ASEAN Integration Fund (JAIF).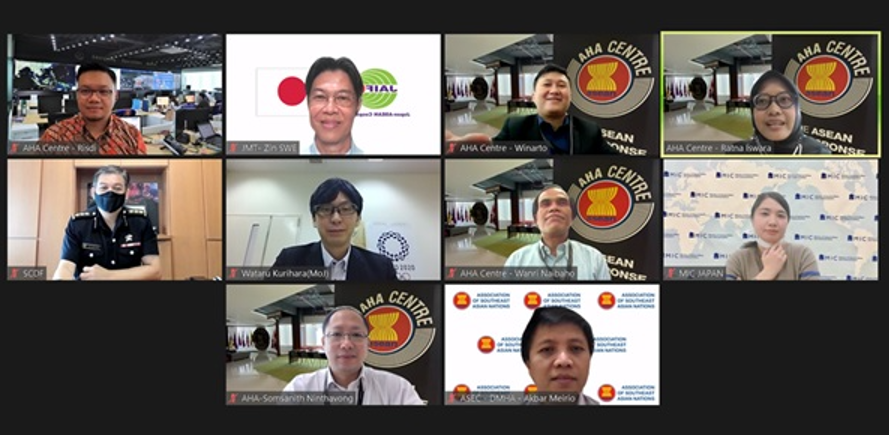 JMT Programme Coordinator Zin Aung Swe (top second left) participated in the PSC Meeting
© JAIF Management Team
Other JMT News