JMT Participation at the Capacity Building for the Operationalisation of the ASCC Blueprint M&E Systems for the Philippines
JAKARTA, 7 April 2021 – JAIF Management Team (JMT) attended the Capacity Building for the Operationalisation of the ASEAN Socio-Cultural Community (ASCC) Blueprint Monitoring and Evaluation (M&E) Systems held virtually on 7 April 2021. Targeting Senior Officials Committee for the ASCC (SOCA) and ASCC Sectoral Bodies of the Philippines, the training attracted more than 40 participants.
JMT contributed to the training by sharing a monitoring mechanism developed for JAIF-supported projects as an example that may be applicable to the ASEAN Cooperation Programs and Projects funded by ASEAN Dialogue Partners. The ASCC Monitoring Division of the ASEAN Secretariat will implement a series of trainings in ASEAN Member States to enhance capacities of relevant sectoral bodies who are tasked to operationalise the ASCC M&E System. It will also allow participants to exchange their knowledge and current practices in conducting the M&E for the implementation of work programs relevant to the ASCC Blueprint 2025 objectives.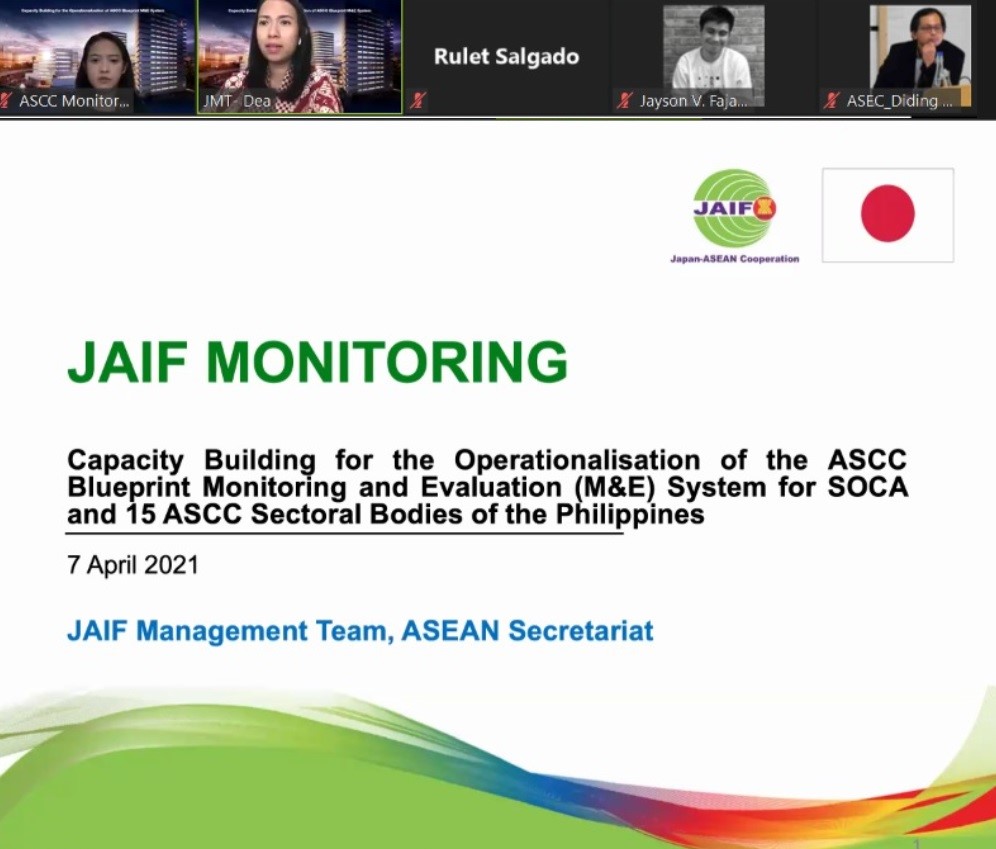 JMT Senior Programme Officer (Outreach & Monitoring), Dea Karina Artikasih (second from left) presented on JAIF monitoring
© JAIF Management Team