JMT Participated in the Events of ACE Programme Seventh Batch
BANGKOK, 4-8 August 2022 – The ASEAN Coordinating Centre for Humanitarian Assistance on disaster management (AHA Centre), which is the implementing agency of the JAIF-funded AHA Centre Executive (ACE) Programme 2018-2020, organised a two-day event where 21 participants of the 7th Batch of the Programme presented their project proposals. This event was then followed by the Graduation Ceremony on 8 August 2022.
The 5th and 6th Batches were concluded in 2018 and 2019, respectively. The 7th Batch, which was scheduled to be implemented in 2020, was postponed to 2021 due to the COVID-19 pandemic. Unlike the previous batches, it was organized with a hybrid arrangement (online and onsite). A total of 21 participants from ten ASEAN Member States were graduated from the 7th Batch.
JMT Programme Coordinator Zin Aung Swe attended the Graduation Ceremony with representatives from Thailand's Department of Disaster Preparedness and Mitigation (DDPM) Office, the Mission of Japan to ASEAN, the ASEAN Secretariat, the AHA Centre, and UN partners. The Ceremony recognised outstanding project proposals which were appraised by the JMT Programme Coordinator as one of the panelists.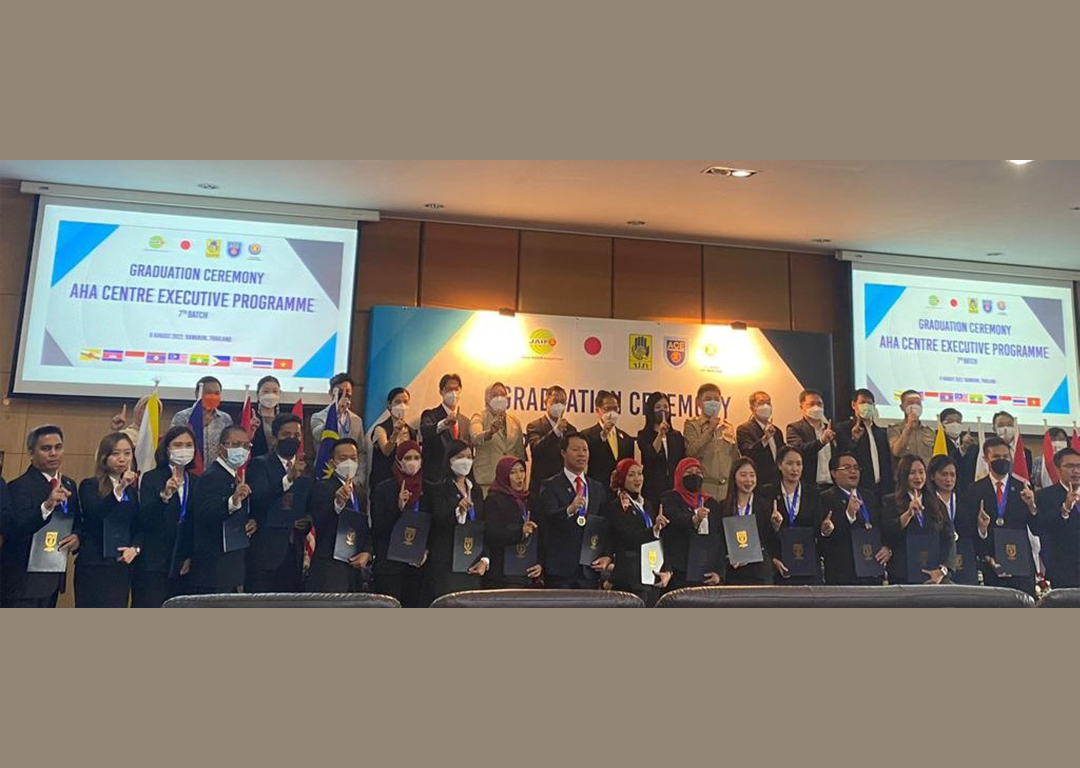 JMT Programme Coordinator attended the Graduation Ceremony of the ACE Programme 7th Batch.
©  The ASEAN Coordinating Centre for Humanitarian Assistance on disaster management (the AHA Centre)