JMT Provided two-day Training on Project Development for Attachment Officers to the ASEAN Secretariat
JAKARTA, 18-19 August 2020 –  To maximize the benefits of the Attachment Programme at the ASEAN Secretariat, the 12 Attachment Officers (AO) from Cambodia, Lao PDR, Myanmar and Viet Nam (CLMV) ― the 16th Batch of Junior Diplomats (APSC involvement) and the 5th Batch of AEC and ASCC involvement ― initiated a series of practical learning sessions with the assistance from the IAI-NDG Division.
Training on Project Development for AOs was one of such learning sessions organized on 18 – 19 August 2020 in Jakarta, Indonesia (partially virtually). Five (5) members of JMT as resource persons provided practical knowledge on project management from the development to evaluation stages through lectures as well as practical group exercises.
At the opening remarks, JMT Director Setsuko Miyakawa commended on AO's professionalism and commitment to making the best use of the learning opportunities during the AO Programme despite the difficult times during the pandemic period. PCPMD of the ASEAN Secretariat also provided lectures on project cycle and the guidelines on implementation.
Japan has consistently supported the Attachment Programme since 2001. To-date, it has a total of 88 graduates from 15 Batches for Junior Diplomats (APSC Involvement) and 4 Batches for AEC and ASCC Involvement. The Attachment Programme continues to develop capacities of CLMV officials to participate in regional initiatives and to fulfil their regional commitments.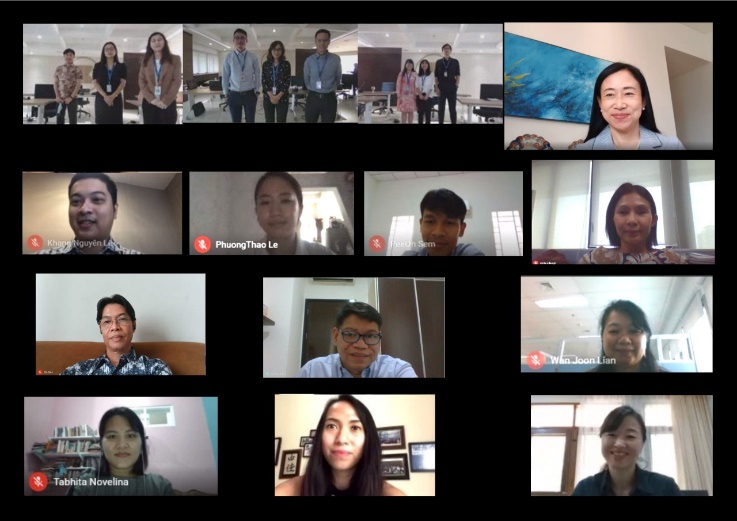 Participants and resource persons of the training.
© JAIF Management Team
Other JMT News