The 2nd ASEAN Socio-Cultural Community Department (ASCCD) Research and Development Platform Online Forum on Disaster Management
JAKARTA, 21 April 2022 – The ASEAN Secretariat (ASEC), with the support of JAIF, conducted the "Trends and Actionable Foresights for ASEAN Disaster Management" forum on 21 April 2022. This was the second forum of a series of events organised by ASEC under the ASEAN Socio-Cultural Community (ASCC) Research and Development Platforms project funded by JAIF.
The forum was opened by H.E. Ekkaphab Phanthavong, Deputy Secretary-General of ASEAN for ASEAN Socio-Cultural Community (ASCC). In his remarks he highlighted "ASEAN region is among the most disaster-prone regions in the world, and the pressure on disaster management in the region intensifies as recent studies show that the effects of climate change are projected to become more pronounced in years to come. Disaster management sector had to prepare for and manage disasters against the backdrop of COVID-19." He added that the forum was a timely opportunity to learn about and contribute our views on future challenges and practical solutions facing our disaster management sector.
Naoki Minamiguchi, JMT Director, in his opening remarks highlighted that the forum would help understand and analyse emerging trends, issues, and approaches to disaster management at global and regional levels and allow for providing evidence-based policy advice to ASEAN Sectoral Bodies and policymakers of respective Member States.
The forum was attended by about 70 participants representing relevant ASEAN Sectoral Bodies under the ASCC Pillar, ASEC divisions, and the ASEAN Centre for Biodiversity. The forum was moderated by the Research Development Institute (RDI), one of the advisors to the project.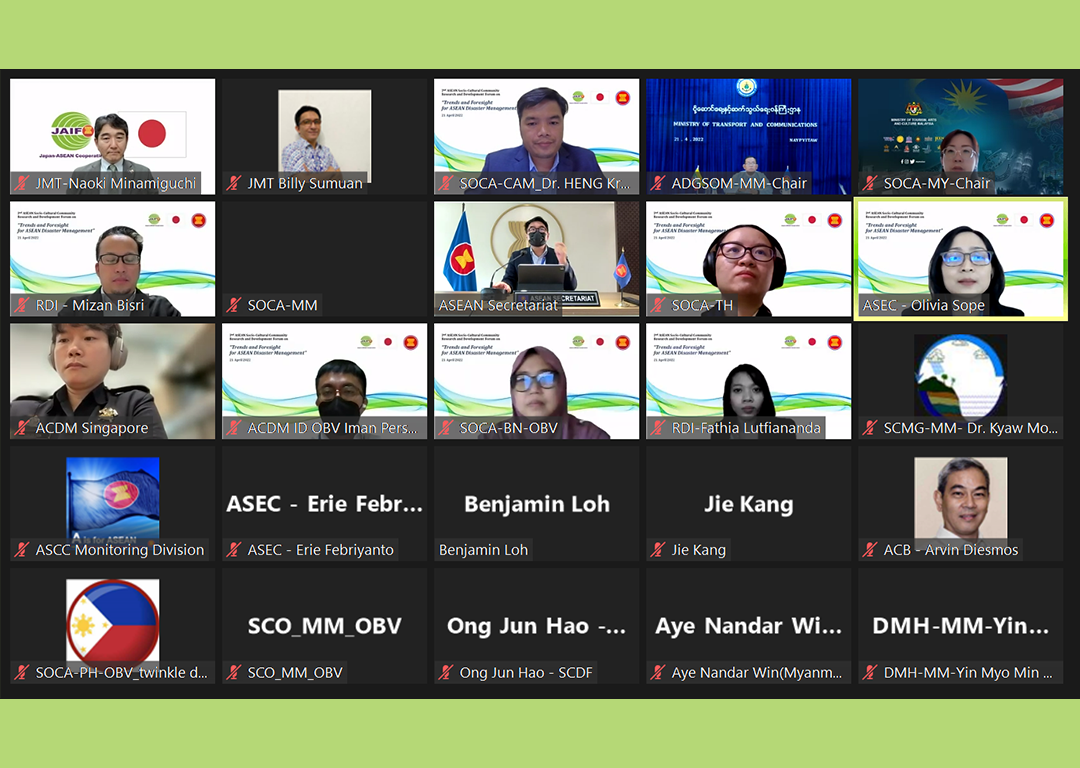 JMT staff, Naoki Minamiguchi and Billy Sumuan (first and second from left, top row) with the participants of the online forum.
© JAIF Management Team