12 Years of the ASEAN-ERAT Missions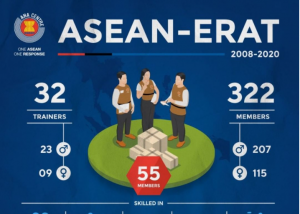 11 January 2021
-
Within the last 12 years, the ASEAN-ERAT members' capability of carrying out the response missions has improved gradually in terms of numbers and specialisations.
The AHA Centre, with support from the Japan-ASEAN Integration Fund (JAIF), implemented the project ASEAN-ERAT Transformation Project-Phase I and currently implements the project Strengthening ASEAN's Collective Response Capacity through the Enhancement of the Capacity Building of the Regional ASEAN Emergency Response and Assessment Team (ASEAN-ERAT) (2020 – 2022).
Learn more about ASEAN-ERAT and read the full article here.