A Message from Ambassador KIYA Masahiko on His Assumption of Office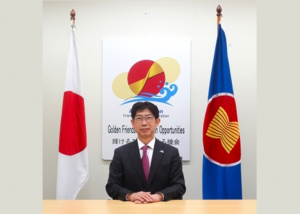 03 December 2022
-
On 1 December 2022, H.E. KIYA Masahiko assumed his duty as the Ambassador of Mission of Japan to ASEAN.
This is the first posting of Ambassador Kiya to a Southeast Asian country, but he has been working with ASEAN Member States in various fields such as security, peacebuilding, economy, energy, development cooperation, and global health in Japan as well as in other countries in the world. Making most of such backgrounds, Ambassador Kiya would make his utmost efforts to enhance ASEAN-Japan relations, given the growing importance of ASEAN in the international community.
Ambassador mentioned that Japan has been supporting countermeasures against the COVID-19 pandemic as well as recovery from the pandemic by providing vaccines, medical equipment, financial support loans, and support for the ASEAN Centre for Public Health Emergencies and Emerging Diseases (ACPHEED). In the field of socio-culture, Japan has been promoting people-to-people exchange and sports-cultural exchange under the JENESYS programmes. Both projects were implemented through the Japan-ASEAN Integration Fund (JAIF).
In particular, next year is the 50th Year of ASEAN-Japan Friendship and Cooperation. The official catchphrase of the 50th Year of ASEAN-Japan Friendship and Cooperation is "Golden Friendship, Golden Opportunity." Making the most of this Golden Jubilee of ASEAN-Japan relations, Ambassador Kiya says, "I would like to do my utmost to elevate ASEAN-Japan relationship to a new stage, making our friendship, opportunities, and our future even greater and brighter. I look forward to meeting all those who lean the further development of ASEAN-Japan cooperation in various fields."
Read the full message from the Ambassador here.