A Story from ACE Programme Batch 7 Participant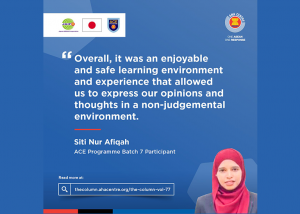 23 January 2022
-
Siti Nur Afiqah from the National Disaster Management Agency (NADMA) of Malaysia really enjoyed taking a Post Disaster Need Assessment (PDNA) course provided in the AHA Centre Executive (ACE) Programme Batch 7. Her impression about the programme in overall was enjoyable and safe learning environment. The programme also allowed the participants to express their opinions and thoughts in a non-judgmental environment.
Read more stories from Afiqah and her experience involving in ACE Programme Batch 7 at https://thecolumn.ahacentre.org/the-column-vol-77/
The programme is part of the AHA Centre Executive (ACE) Programme 2018-2020 supported by the Japan-ASEAN Integration Fund (JAIF).