ACB Prepares a Field Guide to the Vascular Plants of the Mud Spring Area, Mount Makiling Forest Reserve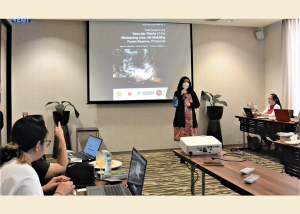 22 February 2022
-
After a series of field visits, the ASEAN Centre for Biodiversity (ACB) team is currently preparing a field guidebook on common vascular plants along the mud spring trail of the Mount Makiling Forest Reserve (MMFR).
MMFR located in Los Baños, Laguna, Philippines, is one of the 50 declared ASEAN Heritage Parks.
This activity is supported by the Government of Japan through the Japan-ASEAN Integration Fund (JAIF) as part of the Taxonomic Capacity Building on DNA Barcoding of Common Vascular Plants in the Tropics Project, which aims to enhance the capacity of Member States in using the DNA-based approach in species identification and discovery.