AICHR promotes gender equality and women empowerment through ICT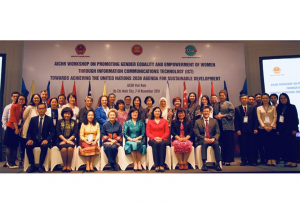 8 November 2019
-
The ASEAN Integovernmental Commission on Human Rights (AICHR) Workshop on Promoting Gender Equality and Empowerment of Women through Information Communications Technology (ICT) towards Achieving the United Nations 2030 Agenda for Sustainable Development was held in Ho Chi Minh City, Viet Nam on 7-8 November.
The workshop gathered participants from relevant ASEAN Sectoral Bodies, representatives of ASEAN Member States government, civil society organisations and academia working in gender and ICT issues, as well as eminent experts from various regional and international organisations. A list of practical, action-oriented recommendations was developed at the end of the workshop for AICHR, other ASEAN sectoral bodies, and Member States to consider for further implementation.
As part of the AICHR Priority Programme 2019, the workshop was hosted by AICHR Viet Nam and Ministry of Foreign Affairs of Viet Nam, with support from the Japan ASEAN Integration Fund.