Ambassador Chiba's Participation to the Graduation Ceremony of ACE Programme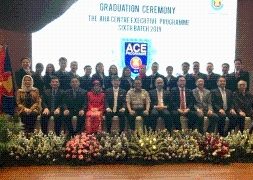 2 December 2019
-
On November 28, 2019, H.E. CHIBA Akira, Ambassador of Japan to ASEAN, attended the Graduation Ceremony Batch Six of the ASEAN Coordinating Centre for Humanitarian Assistance on disaster management (AHA Centre) Executive Programme (ACE Programme) held at the AHA Centre in Jakarta, and celebrated the graduation of 18 participants. Attendees to the ceremony included Ms. Adelina Kamal, Executive Director of the AHA Centre, H.E. Kung Phoak, Deputy Secretary-General of ASEAN for ASEAN Socio-Cultural Community, and Mr. Harmensyah, Dipl, SE, M.M., Secretary-General of BNPB.
At his opening remarks, Ambassador Chiba mentioned that, by adding the 18 graduates of the Batch Six, the total number of ACE Programme graduates would become 97 and the target of producing over 100 expert officers was right in front of us, and expressed his intention to continue Japan's support to the Programme.
The ACE Programme is an over 4-month training for future leaders of national disaster management offices (NDMO) in ASEAN countries conducted by the AHA Centre. The Programme is supported by the Government of Japan through the Japan-ASEAN Integration Fund (JAIF). The Programme commenced in 2014, and the Batch Six was just concluded.
Other Whats New