Ambassador of Mission of Japan to ASEAN KIYA Masahiko Presented His Letter of Credence to Secretary-General of ASEAN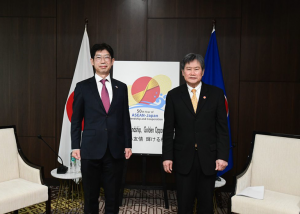 02 December 2022
-
Ambassador of Mission of Japan to ASEAN KIYA Masahiko presented his Letter of Credence to Secretary-General of ASEAN, Dato Lim Jock Hoi, on 1 December 2022 at the ASEAN Secretariat.
On this occasion, Ambassador Kiya reaffirmed that Japan has been a staunch supporter of ASEAN Centrality and unity as well as the ASEAN Outlook on the Indo-Pacific (AOIP), and expressed his will to further enhance Japan's relations with ASEAN towards the 50th Year of ASEAN-Japan Friendship and Cooperation in 2023. In response, Dato Lim congratulated Ambassador Kiya on his assumption of office and expressed his appreciation to Japan's longstanding support to ASEAN.
The above event is also published by the Indonesian news agency Antara News.