AMEN Meets Country Partners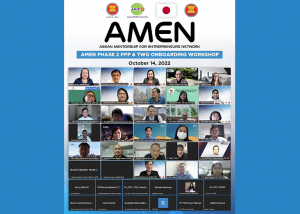 17 October 2022
-
The ASEAN Mentorship for Entrepreneurs Network (AMEN) Team gathered for an onboarding workshop the AMEN Public-Private Partnership (PPP) and Technical Working Group (TWG) members from all 10 member-countries. The activity heralds the simultaneous conduct of the region-wide mentorship sessions from December 2022-May 2023.
AMEN consultants Virgilio Espeleta, Renea Cruz-Tan and Gaston Ortigas led the discussions and addressed the questions on the AMEN program flow, the selection process for the mentors and mentees as well as the defined roles of the AMEN PPP and TWG. Project Executive Director Engr Merly Cruz reiterated the importance of helping MSMEs especially as commodity prices and interest rates continue to rise and geopolitical tensions threaten economic growth across the globe. Members of ACCMSME and ASEAN BAC also have participated in the ongoing implementation of the ASEAN-wide mentorship program
The Government of Japan has been supporting AMEN since the implementation of first phase in 2019 through the Japan-ASEAN Integration Fund (JAIF).