Another Update of Eel Catch Sampling Survey in Poso, Central Sulawesi through JAIF Phase II Project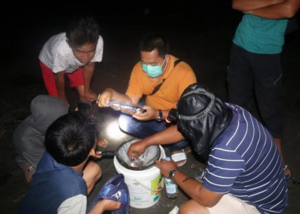 18 June 2021
-
The Inland Fishery Resources Development and Management Department (IFRDMD)'s team, represented by Mr Kamaluddin Kasim and Ms Yenni Sri Mulyani, continued the research activity in Poso, Central Sulawesi. This activity was carried out on 12-17 March 2020. It was aimed to collect monthly data of eel catch all stages and water quality parameters.
Furthermore, it also functioned as controlling act of the ongoing research for better data quality. Together with Department of Fishery Poso Regency officer, Mr Irwan Thaha Bauda, Mr Adrian and local fishers, IFRDMD's team, traced the location where the fishing gears were set up and recorded the eel catch and water quality data. In this site, fyke net is used for glass eel, rattan trap for elver and net trap for yellow eel and silver eel. At that time, the team successfully collected the sample of glass eel, elver and yellow eel (YSM).
This research is part of the Development of Stock Assessment Methods and Strengthening of Resources Management Measures for Tropical Anguillid Eel in Southeast Asia project supported by the Government of Japan through Japan-ASEAN Integration Fund (JAIF).