ASEAN: COP26 and Beyond – In the Face of the Global Climate Change Agenda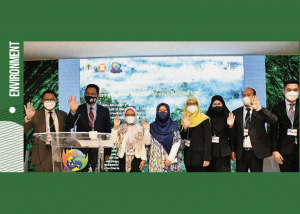 31 January 2022
-
Climate change remains one of the most challenging environmental issues of our generation and is an ongoing threat to global security. Its adverse impacts are manifested across communities around the world including in the Southeast Asian region.
Aiming to put this climate crisis to an end, world leaders gathered at the 26th Session of the Conference of the Parties to the United Nations Framework Convention on Climate Change (UNFCCC COP26) from 31 October to 12 November 2021 in Glasgow, the United Kingdom. The UNFCCC COPs have served as a pivotal platform for countries to deliberate about transformational changes in global climate policy and action. ASEAN Member States certainly did not miss this pivotal momentum. All ASEAN Member States have committed to substantially reduce greenhouse gas (GHG) emissions in the coming years as reflected in the official submission of their nationally determined contributions (NDCs) to the UNFCCC.
In line with the Paris Agreement that encourages all Parties to formulate and communicate long-term low GHG emission development strategies, ASEAN has been paving the way to build preparedness and capacity towards this long-term vision. The ASEAN State of Climate Change Report was recently launched to provide an overall outlook on the state of play of climate change in Southeast Asia and identify priority actions by 2030.
Read the full article in p.43 – 44 of The ASEAN Double Issue December 2021 – January 2022.
The Development of the Report on the State of Climate Change in ASEAN Region is supported by the Government of Japan through Japan-ASEAN Integration Fund (JAIF).